Beck's Mill Events

Mill Opens for the 2017 Season on April 7th

4th Annual "May Day" Celebration - May 13th
Beck's Mill's 4th annual May Day's Celebration includes Mother's Day. Saturday, May 13th, 11 am to 4 pm & Sunday, May 14th 1 pm to 4 pm. Saturday the celebration starts with the National Anthem sung by local students. The music continues with 7 year old violinist, Evelyn Richert, then 8th grader Abby Corbin and wrapping the day with "Old Stuff" band. A Civil War Encampment, "2nd South Carolina Infantry" will hold drills & raids through out the day. SHSA Student Art show will be in the Beck Cabin with local students demonstrating pastel drawings of the mill. Featured demonstrating artists are Peyton Nix & Glenna Mitchell. Other demonstrations include blacksmithing, pottery, fish flies, herbalist, blade sharpening, needle working, bead weaving and of course corn milling. Walking trail tours & plant identification, face painters and children's crafts. Craft vendors will sell their talents in the parking lot area. On Sunday, all mother's visiting the mill will receive a sample bag of Beck's Mill cornmeal.

*the maypole needs some repairs so it may not be ready for this event this year
Mother's Day - May 14th
Sunday, May 14th is "Mother's Day", all visiting "Moms" will receive a free sample bag of Beck's Mill cornmeal. Home school art on display in the cabin, children's activities, pottery, blacksmithing and milling demonstrations.
Father's Day - June 18th
Sunday, June 18th is "Father's Day", all visiting "Dads" will receive a free sample bag of Beck's Mill cornmeal.
Wheels for the Mill - July 16th
The 2nd annual car show will be Saturday, 07/15/17 with a rain date being on Sunday, 07/16/17.
Click here for Registration information for Wheels for the Mill

209th Birthday of Beck's Mill - August 26th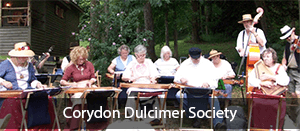 Saturday, August 26th is the "209th Birthday of Beck's Mill". The Corydon Dulcimer Society will be peforming. A "Mock Moonshine" demonstration will be on display. The new blacksmith shop will be firing during this special day. Mt Tabor Christian Church will be providing a free meal while supplies last. The vendors in the parking lot will be selling: zucchini bread, jams & jellies, goat soap, knitted booties, fairy houses, wood burning crafts, flower arrangements, vases, quilts and numerous other items. Special adult admission price of $2.09 each. Birthday Cake, games, crafts and fun for all!

The Grind 5k Run - October 14th
October 14th will be our 5th annual "The Grind". Packet pick up and race day registration will begin at 7:30am and the race will begin at approximately 9:00am.
5K EARLY registration - $12 LATE (after Oct 1, 2017) - $20
T-Shirt Option Small $5 / Medium $5 / Large $5 / XL $6 / XXL $7
Grind 5K Registration Packet (pdf)
Oktoberfest - October 28th
Beck's Mill will celebrate their German Heritage with the 8th annual Oktoberfest on Saturday, Oct. 28th (11 am to 4 pm). Campfire beans served with Beck's Mill cornbread. Cornmeal bake off contest. A "Mock Moonshine" demonstration will be on display. Student Art Show featuring Pekin High School art students of Laura Fagg Temple and Salem Middle School art students of Carol Fagg Clodfelter. People's choice voting on the art work, plus both teachers will be creating art work. This will all take place in the Beck Cabin
Demonstrations, Crafts, Live Music & More
Music starting at 11 am:
8yr old Evelyn Richert wil be playing God Bless America on her violin after the national anthem.
Dr. Jared Kearschner will follow Evelyn until 12:45pm. Abby Corbin 12:45pm -2:00pm, Troy & Melanie Smith and Cathy Cress 2:15pm - 4:00pm.
Glenna Mitchell-resident artist-creating a country scene.
Melissa Saulman-village herbalist-free hedgeapples & explaining the health & home benefits…will also be selling herbs & herbal oils.
TWO SISTERS - Students' Art show in the Cabin-Salem Middle School & East Washington High School. The teachers Laura Fagg Temple & Carol Fagg Clodfeltner.
Mark Elliott will be sharpening blades & tools.
Barb Elliott demonstrating knitting.
Paula Bortka demonstrating pottery.
Tim Wells demonstrating apple peeling.
Steven Hoskins-carving walking sticks
Corey Simon-Johnny Appleseed re-enactor will tell his story & do a coloring craft with the children.
Katrina Benton Nix will have a children's art table-sponge painting.
Geoffery Harrison will have face painting.
Brooklyn Morgan-re-enactor Native American potter making a coil pot in a pookie.
Civil War Camp - Clint Barnett & Joe Sears - living History camp-parking lot area
2nd South Carolina, Co. G "Flat Rock Guards" with Steve Tye, Max Gamble and others
Jason Hardin will be blacksmithing in the shop.
Arts & Crafts Vendors will be setup across the street from the mill
Tim wells will be showing & explaining Native American Artifacts & tools.
Display and teaching about fossils found in the area.
Mill Closes for the Season - October 29th
For More information:
For any event information, contact Judy at 812-883-3447 or at This email address is being protected from spambots. You need JavaScript enabled to view it.
All events are subject to change.