Visit Historic Beck's Mill Gristmill
Historic Beck's Mill Gristmill is located at 4433 South Beck's Mill Road in Salem Indiana 47167.
The Mill is now closed for the season, reopens on 04/01/23
Saturdays
11:00AM to 4:00PM
Sundays
1:00PM to 4:00PM
Admission
Adults $5.00*
Children under 16 free!
(with paid adult admission)
*Please Note - We no longer accept Credit/Debit Cards (Cash/Check only)

Need driving directions to Beck's Mill? Click here!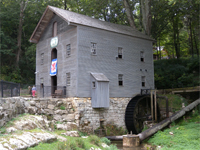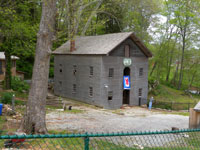 Historic Beck's Mill Gristmill
The original mill was constructed in 1808. That facility served the needs of George Beck's family and the newly arriving settlers until approximately 1825. Then a new and enlarged Mill was reconstructed into a building of approximately 30 feet by 30 feet. The Mill was again rebuilt in 1863-64 and made into this two story structure. The Mill continued to operate until approximately 1950.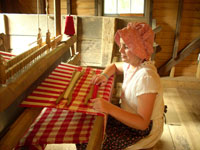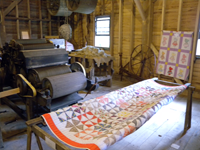 Water Powered Carding Machines & Wool Pickers
New pieces of equipment were installed in the new mill building such as carding machines and a wool picker, a device that cleans the newly shorn wool. This new equipment was also water powered. The picker was a necessary item because wool needed to be cleaned before being fed to the carding machines. This made the chore of texturing wool for the pioneer wife much easier to make into cloth. Little "Squirrel tails" were made by one of the carding machine to be used with the spinning wheels to make bobbins of wool.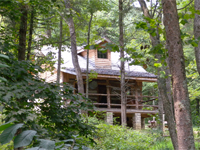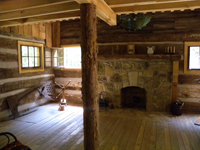 Beck's Cabin
Visit Beck's Cabin in the woods above Historic Beck's Mill. The cabin was assembled at the same location as the original homestead of George Beck. The original cabin collapsed due to neglect.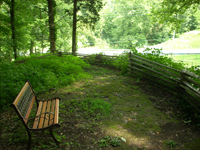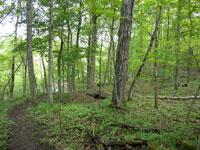 Hiking Trails
There are also three more miles of trails beyond Beck's Mill, winding over the hills, passing three more springs, until finally skirting the edge of the high, sheer bluff of Mill Creek below. Springtime visitors are rewarded with thick blankets of wildflowers along the trails, including Wild Geranium, Violets, pink and purple Spring Larkspur, Columbine, and Trillium. Current trails include the .15 mile Mill Trail, the .3 mile Cemetery Trail, 1.0 Mile Mill Creek Overlook Trail and the 1.8 mile Sulphur Springs Trail. All trails start and end at the mill. The trails are rugged and may require you to cross flowing streams. Special thanks to the Hoosier Hikers Council for their assistance with these trails.
Beck's Mill Hiking Trails: Mill Trail, Cemetery Trail, Mill Creek Overlook, Sulphur Springs Trail, Spring View Trail
Download a Beck's Mill Hiking Trails Map (pdf)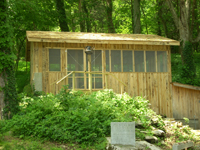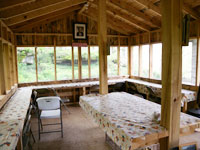 Kitchen Area
Beck's Mill has a kitchen facility available for on-site meal preparation and service for large groups and special events

Neff Farms Pollinator Habitat
The Friends of Beck's Mill support the efforts of the Neff Family and the creation of a Pollinator Habitat. The former crop field has been converted to a haven for native pollinators and includes many species of native plants in bloom throughout the seasons. . The habitat is located 1/3 mile south of historic Beck's Mill and is free and open to the public. Click here for more information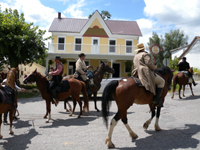 Town of Beck's Mill
A town rapidly grew up around the mill and was aptly named Beck's Mill. The town was large enough to be considered as the Washington County seat in 1814 but lost to Salem. Two forts were constructed to provide protection for the population during the Indian uprising from 1811-1814. Further area growth was spurred by the nearby cattle driving trail linking Kentucky with Chicago. During the 1840's and 1850's the town earned the nickname "Hell's Half Acre" from the many cattle drovers that stopped there.
Frequently Asked Questions
Q. Do you accept Credit/Debit Cards?
A. No, we only accept cash or check for admission fees and purchases.
Q: Are there restrooms available at Beck's Mill Gristmill?
A: Yes, there are restrooms available near the parking lot for Beck's Mill Gristmill.
Q: Are pets allowed inside the Beck's Mill Gristmill site?
A: Pets are not allowed on the grounds at this time.
Q: Is Beck's Mill Gristmill wheelchair accessible?
A: Generally Yes, The first floor of the mill is one step up from the ground and would be accessible with assistance. The second floor would not be accessible by wheelchair due to the series of steps to reach the second floor. The surrounding area is a sloped terrain that is generally accessible.
Q: Is my donation to Friends of Beck's Mill Inc. tax deductible?
A: Yes, Friends of Beck's Mill Inc. is a Non Profit 501(3) Organization and all donations are tax deductible.
Q: Can we bring our own food items for a picnic on the grounds of Beck's Mill Gristmill?
A: Yes, you may bring your picnic basket or your food items inside the grounds of Beck's Mill. Sorry, No alcoholic Beverages allowed.
Q: Is there a bank or an ATM machine in the area of the mill?
A: At this time there is not an ATM in the town of Beck's Mill. ATM machines are available in Salem, Pekin and Palmyra.
Q: Will there be guided tours available to explain the operation of the mill?
A: Yes, Tour Guides can provide insight into the operations of the mill and the process of grinding grains.